Grant Thornton's International Business Report's (IBR) Women in Business research shows the percentage of senior women in businesses is down 2% in SA, and has remained static – at between 26% and 28% – for the past seven years.
Deputy CEO of Grant Thornton, Jeanette Hern, commenting on the report, said these percentages were "inadequate", especially in light of the numbers shown by South Africa's Brics (Brazil, Russia, India, China and South Africa) partners, which demonstrate a 4% increase in the number of women in senior positions, frOm 28%.
So who are South Africa's most influential women in business? Here they are, in no particular order.
10. BRIDGETTE MOTSEPE  RADEBE
Executive chairman of Mmakau Mining and independent non-executive director of Sappi Limited

Bridgette Motsepe Radebe is the only woman to head a deep-level, hard rock mining company in South Africa. She began her career as a miner in the 1980s with British Petroleum (BP).  Her company now has quality assets in platinum, gold, uranium, coal, chrome, exploration and mining services.
After the fall of apartheid, Radebe was involved in developing South Africa's Mineral and Petroleum Resources Development Act and the Mining Charter, and chaired the International Women's Forum in South Africa, which focuses on leadership foundation programmes for professional women. She is married to minister in the presidency, Jeff Radebe, and her brother is mining magnate, Patrice Motsepe.
9. ESMARÉ WEIDEMAN.
CEO of Media24

Esmaré Weideman worked her way to the top of South Africa's largest media company, starting out as a trainee reporter on Die Burger. She graduated from Stellenbosch University cum laude with a BComm and did a Bachelor of Journalism honours. She was editor in chief of Media24's biggest selling magazines – YOU (she was the youngest-ever editor of the magazine), Huisgenoot and DRUM – until 2011, when she was promoted to the position of CEO, the first woman in the company to get the job.
In 2012, she was a finalist in the Media Woman of the Decade Award.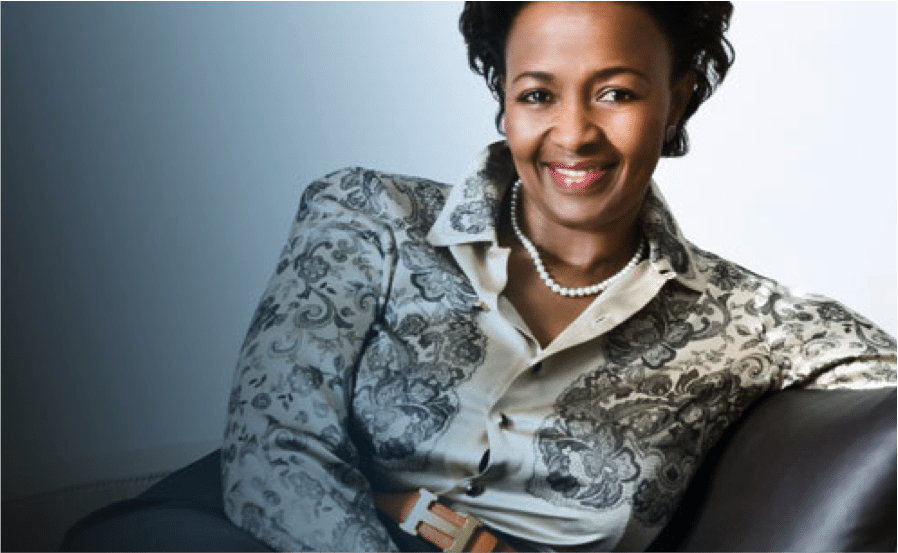 8. WENDY LUHABE .
Founder of the Women Investment Portfolio Holdings (Wiphold) and chairman of the Women Private Equity Fund

Wendy Luhabe co-founded Wiphold in 1994, the first women-owned company to be listed on the Johannesburg Stock Exchange in 1999. She also founded the Women Private Equity Fund. The British royal family recently appointed her an honorary lieutenant of the Royal Victorian Order for her services at the Duke of Edinburgh's Award International Foundation. She was also director of the Johannesburg Securities Exchange, chancellor of the University of Johannesburg and founder of Bridging the Gap, a human resources and recruitment firm.
She is involved in setting up micro-enterprises for women in communities across South Africa. Luhabe is a firm believer in the economic emancipation of women and has made developing those around her a key priority.
7. WENDY LUCAS-BULL.
Chairman of the Barclays Africa Group, Absa Bank and Absa Financial Services

Wendy Lucas-Bull began her banking career in 1995 as an executive director of Rand Merchant Bank (RMB). It came at a time when RMB merged with First National Bank, and Lucas-Bull helped create a new workplace culture that incorporated the principles of ubuntu – humanity, collaboration, dignity, trust, respect and courage. In 1999, she took over as CEO of Firstrand Retail.
She was the founding chairman of Business Against Crime. In 2005, she and Cheryl Carolus, Dolly Mokgatle and Thandi Orleyn founded Peotona Group Holdings, all leaving high-powered jobs to do so.
6. TERRY VOLKWYN.
CEO of Primedia Broadcasting

Terry Volkwyn started in the Talk Radio 702 sales department in 1986, working her way up to CEO over the course of her career. From leading a hugely successful sales team to integrating the various radio stations as Primedia Broadcasting, Volkwyn is credited with developing the company's four radio stations into valuable brands – Highveld 947, KFM, CapeTalk and Talk Radio 702 – that will have lasting legacies.
In her first 10 years as CEO, Volkwyn delivered a compound annual growth rate of 18%, a phenomenal return on investment for shareholders. She is regarded as a leader in transformation, with more than half her senior managers being women. Under her watch, the company also developed powerful social brands such as LeadSA and Crimeline. She regards herself as an activist and believes in the power of social investment initiatives and ethical leadership.
5. DAPHNE MASHILE-NKOSI.
Chairman of Kgalagadi Manganese and CEO of Kalahari Resources

Daphne Mashile-Nkosi is responsible for the creation of over 30 000 jobs in the Northern Cape, and will be remembered for creating the largest mining venture of its kind in the past three decades. She is also a trustee and chairman of the Women's Development Bank (WDB) Trust, and chairman of WDB Investments Holdings.
She was recently announced as CEO of the Year at the African CEO Forum held in Geneva, Switzerland. Mashile-Nkosi is committed to social upliftment and environmental responsibility. She is a powerful advocate for women in business, and targets 50% women staff in all her companies' catering and cleaning contracts.
4. NONKULULEKO NYEMBEZI-HEITA .
CEO of IchorCoal and chairman of the Johannesburg Stock Exchange

The former CEO of ArcelorMittal, the largest steel and mining company in the world, Nonkululeko Nyembezi-Heita is also chairman of the JSE. She left ArcelorMittal for Berlin-listed IchorCoal, which owns 74% of Vunene Mining and 30% of Mbuyelo Coal, a unit of strategic partner the Mbuyelo Group. She is tasked with driving investments for the German firm, which recently acquired a direct 29.9% stake in Australian-listed Universal Coal.
She is refocusing the company's growth strategy in South Africa, after it moved out of coal mining investments in Poland in favour of South Africa. Forbes listed her as the 97th most powerful businesswoman in the world. Nyembezi-Heita funded her education with a prestigious scholarship from Anglo American. She studied for a BSc in electrical engineering at the University of Manchester Institute of Science and Technology, and later got a master's degree from the California Institute of Technology.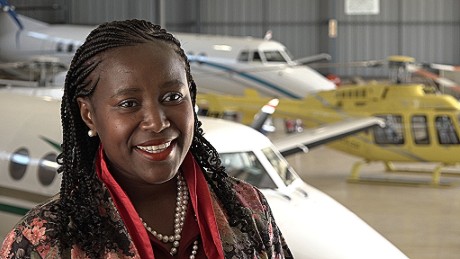 3. SIBONGILE SAMBO.
Founder and director SRS Aviation

SRS Aviation is the first black-, female-owned aviation company in South Africa. It offers VIP, tourist, game count and capture, cargo and helicopter charter services. It is also the African distributor of new and overhauled aircraft spare parts for commercial, commuter, corporate, military and cargo aerospace industries. Sambo was named a Leader of Tomorrow by Fortune magazine in 2007, and was awarded the Black Management Forum Presidential Award in the Category of Youth Business Leadership in 2008.
She was a recipient of the International Women's Entrepreneurial Challenge (IWEC) 2010, held in Cape Town. Sambo is involved in Southern African Women in Aviation, a non-profit company that encourages women to enter the field of aviation at different levels. It offers bursaries and scholarships towards aviation-related training. She is currently studying for her MSc in management of technology and innovation in aviation.
2. NICKY NEWTON-KING .
CEO of the Johannesburg Stock Exchange

Nicky Newton-King also serves as a member of the Financial Markets Advisory Board and was one of the primary drafters of the Insider Trading Act, a world leader of its kind. Twenty years ago, Newton-King, a lawyer by training, was sent to join the JSE team by her firm, Webber Wentzel, to help sort out the infamous Greg Blank insider trading scandal. She served as former CEO Russell Loubser's deputy for nine years before taking the helm of the JSE in 2012.
Half of her 13-person executive committee are women. She calls herself "part strategic tea-leaf diviner and part cheerleader", and has three law degrees. She was selected for a fellowship at Yale University in the US, where she spent five months, and completed a management development programme at Harvard.
1. MARIA RAMOS .
CEO of Barclays Africa Group

Maria Ramos is a previous director general of South Africa's National Treasury and chief executive of state-owned enterprise, Transnet. Fortune magazine rated her the ninth most influential businesswoman in the world. She serves on the World Bank Chief Economist Advisory Panel.
She became involved in politics and, with the African National Congress (ANC). She is married to former finance minister, Trevor Manuel.
Read also : Pres. Zuma is the 4th highest paid head of State in the World.